How To Create Effective Listings
---
May 29, 2017




Latest News
---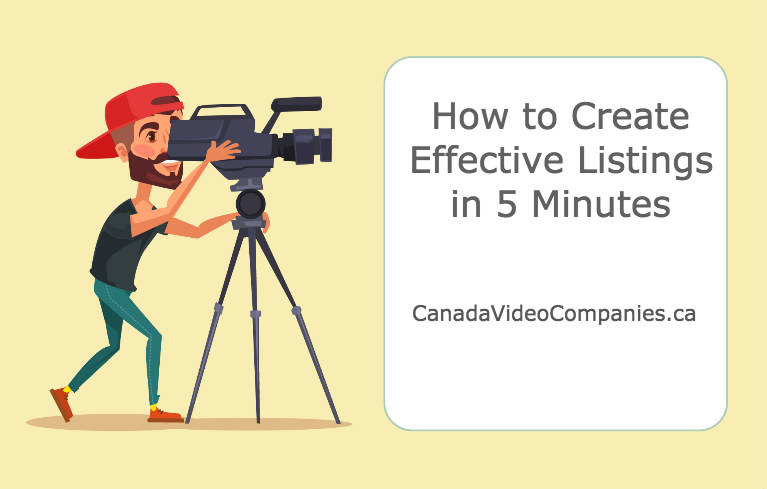 ---
Completing a well-thought-out listing reaps the most benefits resulting in greater exposure.
Think of your listing as the digital 30 second elevator pitch. You only have a few seconds to get visitors clicking on your listing. Here are a few tips on getting started. (Skip this article and list your video production company now)
Upload an image
Add an image to your listing. The first image should be your company logo.
It doesn't need to be fancy. Just keep it simple and memorable. Logos with texts help brand your corporate identity while visitors browse the directory.
Title
This is where you enter the name of your company. Long sentences do not make the best titles. Keep this short as it represents the name of your business. When people google your business, your listing may appear on Google's search engine results page. Lastly, by keeping your title clear and concise, you'll enhance your SEO (search engine optimization) and link juice.
Location, location, location
Next comes the description. Start with the who, what, when, where and possible why. A great listing reveals a lot in only a few words. After reading a few sentences, visitors should know if your company suits their needs. Begin with your location and inform readers about the surrounding areas you serve. Canada is a big country and many video production companies are mobile. If you travel to neighbouring cities, write about how far you're willing to go and what extra fees are involved. You do not need to reveal price however most visitors understand reasonable travel expenses.
Services
It's best to list your services in bullet form. This makes it easy to read as surfers browse relevant listings.
Set yourself apart.
List all of the services you offer, even the ones you think may not be of interest. For instance, some visitors may already have their footage but require post-production services. Others may seek foley or color correction services so ensure you've got it all listed.
Pricing
Some video companies list their prices on their listing while others omit this info entirely. This is a matter of personal preference.
Keywords (tags)
Add tags and keywords to your listings. These nifty words are what trigger your listing whenever someone uses the search bar. Think of the terms people use to find your company. Focus on the services you offer and consider adding terms specific to your city or region. We allow many, so don't be shy, load 'em up.
City selection
We allow your listings to be associated with two cities. Although many video production houses have partners in other cities, it's important to list the cities you serve in the description.
Budgets
Disclosing the budgets your company is used to handling shows resourcefulness. Outlining budgets for previously completed projects sets you apart from smaller and less equipped video production houses. Don't be shy, now is the time to shine.
Equipment and gear list
A quick inventory of what equipment your company possesses is useful. Visitors are always seeking to work with companies stocked with the latest gear. If you do rent out your equipment, let them know. Some of our visitors are seeking video equipment rental opportunities.
Awards and honourable mentions
Worked your tail off for which you've received accolades from the film industry community? Now's the time to share that info. Show visitors what your production house is capable of.
Past clients and current projects
It's always a good idea to list the companies you've worked with in the past. This particularly effective when the roster includes famous brands and local government agencies like tourism boards. Moreover, revealing what current projects you're involved in suggests you're company is in demand.
Get started and create your free listing today.