Is Your Drone Camera Equipped? Find Out If You Need A Permit From Transport Canada
---
September 18, 2018




Latest News,Uncategorized
---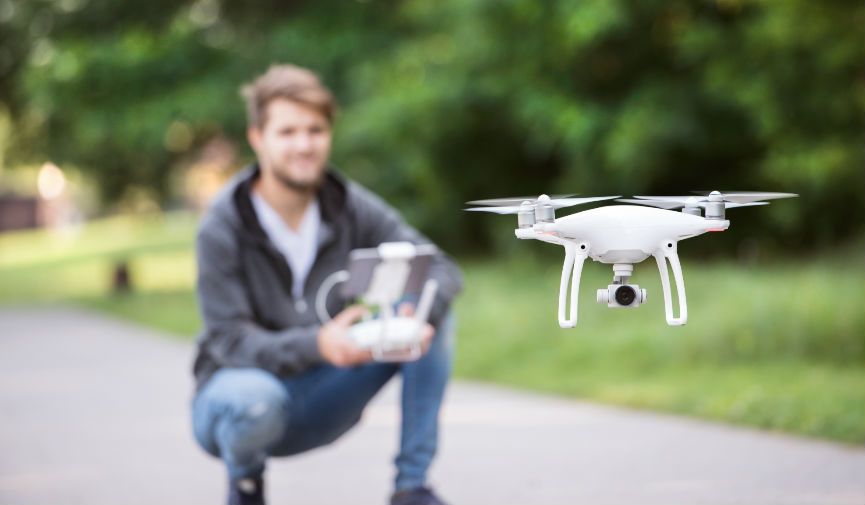 ---
Before appending a camera to your drone, here are some considerations. Expect more rules and regulations from Transport Canada as drone usage increases. An estimated 1 million drones ended up under christmas trees across North America last holiday season.
But not everyone uses the unmanned aerial vehicles safely (UAV).
Unfriendly skies
According to Transport Canada's Civil Aviation Daily Occurrence Reporting System, in 2015, there were over 80 drone-related incidents – more than double the 38 reported accidents in 2014.
In Canada, rules are different for operating a UAV whether it is for commercial or recreational use. Commercial UAV's use is more tightly regulated. Some experts want to take a more risk-based approach to setting new regulations based on the dimensions of the UAV and where you're flying it.
Drone may seem like a harmless device, however they can pose safety concerns.
If a drone hits an airplane, it could compromise the aircrafts structure. Moreover, engine failure may occur should an aircraft ingest a UAV.
New drone (UAV) rules and regulations
During the summer of 2015, Transport Canada, the federal institution responsible for safe, secure and environmentally responsible transportation consulted with drone enthusiasts on how to improve regulations.
This past June 2017, Transport Canada carried out an Interim Order – a temporary regulation put in place to address the pressing safety issue awaiting the implementation of permanent regulation.
The Interim Order was amended after feedback from Canadians and a comprehensive risk assessment were conducted.
What has changed?
Non-recreational users (e.g. commercial users) are required to obtain a Special Flight Operations Certificate (SFOC) to operate under one of two exemptions: (http://www.tc.gc.ca/eng/civilaviation/opssvs/getting-permission-fly-drone.html)
Recreational users (i.e. modelers) are required to operate according to the terms of the

 

Interim Order

 

(IO):

 

http://www.tc.gc.ca/eng/mediaroom/interim-order-respecting-use-model-aircraft.html
Recreational users who are members of the Model Aeronautics Association of Canada (MAAC) are exempted from the conditions of the Interim Order as long as they comply with MAAC operating rules and fly at MAAC sanctioned sites / events.
Recreational drone users need to abide by these set of rules
Here's an overview of the new rules for recreational users. It is also a good idea to consult the Interim Order Respecting the Use of Model Aircraft for the full list of provisions. You are exempt from these rules and regulations if you use your recreational drone at a Model Aeronautics Association of Canada (MAAC) sanctioned field or event.
Follow these rules if you are a recreational user and your drone weighs more than 250 g and up to 35kg.
• within 90 m above the ground or lower
• at least 30 m away from vehicles, vessels, and the public (if your drone weighs more than 250 g up to 1 kg)
• at least 75 m away from vehicles, vessels, and the public (if your drone weighs more than 250 g up to 35 kg)
• at least 5.5 km from aerodromes (any airport, seaplane base, or areas where aircraft take-off and land)
• at least 1.8 km away from heliports or aerodromes used exclusively by helicopters outside of controlled or restricted airspace
• at least 9 km away from a natural hazard or disaster area • away from areas where it could interfere with police or first responders
• during the day and not in clouds
• within your sight at all times
• within 500 m of yourself or closer
• only if clearly marked with your name, address and telephone number
If you fly where you are not allowed or fail to follow these rules, you could face fines of up to $3000.
Commercial Drone Use (Non recreational)
Using a UAV for commercial purposes involves some paperwork and a certificate. Commercial drone usage is defined as operating a drone weighing more than 35kg for work purposes.
According to Canadian Aviation Regulations (Regulations Respecting Aviation and Activities Relating to Aeronautics)
No person shall operate an unmanned air vehicle in flight except in accordance with a special flight operations certificate or an air operator certificate – SFOC
Fines and penalties for SFOC non compliance.
If you fly a UAV without an SFOC and should possess one, you could be fined up to $5,000 for a person and $25,000 for a corporation.
Failing to fulfill your SFOC requirements, may lead to fines up to $3,000 for a person and $15,000 for a corporation.
Flying an unmanned drone?
Find out if you need permission from Transport Canada. Click here to view chart.
http://www.tc.gc.ca/media/documents/ca-opssvs/Infographic-Do_I_need_permission_to_fly_my_drone.pdf
For more details on exemption requirements visit Advisory Circular (AC) No. 600-004
Obtaining SFOC Special Flight Operations Certificate
Drone aerial filming is widely used by video production companies throughout Canada. In fact aerial videography is widely used in weddings, corporate, tourism and real estate videos. It provides a cost effective solution to filming stunning footage that once required expensive equipment such as jibs.
Your clients may be unaware of drone regulations. As the industry becomes more regulated, big businesses will likely minimize their liability by hiring SFOC (Special Flight Operations Certificate) trained drone specialists.
Fight The Power and Sign the Petition
Some argue the new rules set by Transport Canada are too restrictive. Most Canadians agree that compliance is next to impossible. Transport Canada set out very ambiguous rules that are hard to understand.
"The pilot operating under this exemption shall not operate a UAV over or within a built up area." Source TC.gc.ca

Built-up Area – As it relates the the Transport Canada UAV SFOC process, are considered areas with groups of buildings or dwellings including anything from small hamlets to major cities. Anything larger than a farmstead should be considered a built up area
If you wish to see make changes to the current rules and regulations, consider signing the petition over at Change.org
Request AMENDMENT Transport Canada New Safety Rules for Recreational Drone use in Canada
Drone Safety Operations Checklist
Know Your Environment
Hazards
Look our for cables and loose wires
Animals, pets and people
Surround property
Maintain buffer zone between drone and staff
Reduce launches and landing in densely populated areas
Study the region's topography
Ensure connection with drone at all times
Avoid obstructions that may interrupt connection to the controller
Find alternative landing areas in case take-off site becomes unavailable
Psychological consideration
Are you well rested and alert?
Are you being pressure by client?
Weather
Visibility
Rain
Extremet temperatures
Wind speed
Gale wind warnings 63-87 km/h or 

39–54 miles/hour

Winds at higher elevations
Flight plan
Discuss flight plan with co-pilot
Safety
Keep stocked first aid kit handy
Equipment / UAV / Drone
Walk-around
Check joints, damaged or loose screws, ties and fasteners
Damaged wiring
Inspect and clean FPV (First Person View) camera lens
Ensure camera settings are correct (frame rate, shutter speed etc)
Verify status of battery
Verify fail-safe measures – RTH return to home, recovery chute
Propellers are smooth with no damage
Perform range test
Public awareness
Be polite and courteous
You are an ambassador and your actions affect other drone specialists
Appear professional at all times
Pre-Flight Run Up
Ensure batteries are fully charged
Avoid frequency conflicts between transmitter and receiver
Check integrity of propellers, hardware and blades for deformation
Fasten photo/video equipment mounting device is secured
Verify accuracy of GPS equipment controlling the autopilot
In-Flight
Always maintain visual contact with drone
Keep hands on controller at all times
Keep drone at safe distance from people and electrical power lines
Use lightweight drones when flying and filming over people and buildings
Avoid operating drone near commercial and private airport or helipad
Applying for Special Flight School Certificate SFOC
Here's the application form for a special flight operations certificate SFOC for the operation of a unmanned air vehicle (UAV) system in Canadian airspace
If you're looking for courses on drone certifications make sure they meet both the requirement by Staff Instruction (SI)No. 623-001, and TP1526E. Transport Canada does not approve ground schools. Transport Canada approves flight training units and the flight training unit can offer ground school training.
Contact Your Local Transport Canada Office
Transport Canada Civil Aviation has many offices throughout Canada to serve you better! Call the Civil Aviation Communications Centre at 1-800-305-2059 with any questions you may have.
Atlantic Region – New Brunswick, Prince Edward Island, Nova Scotia, and Newfoundland & Labrador
PO Box 42
Moncton, New Brunswick
E1C 8K6
Telephone: 1-800-305-2059
E-mail: tc.aviationservicesatl-servicesaviationatl.tc@tc.gc.ca
Quebec Region
700 Leigh Capreol, Zone 4E, NA Dept.
Dorval, Quebec
H4Y 1G7
Telephone: 1-800-305-2059
Fax: 1-855-633-3697
E-mail: csva-vsca@tc.gc.ca
Ontario Region
4900 Yonge Street, 4th Floor
North York, Ontario
M2N 6A5
Telephone: 1-800-305-2059
Fax: (416) 952-0196 / 1-877-822-2129
Fee Payment: (416) 952-0400 / 1-800-305-2059
E-mail: tc.aviationservicesont-servicesaviationont.tc@tc.gc.ca
Prairie and Northern Region – Alberta, Saskatchewan, Manitoba, Yukon, Northwest Territories and Nunavut
344 Edmonton Street
Winnipeg, Manitoba
R3C OP6
Telephone: 1-800-305-2059
Fax: 1-800-824-4442
E-mail: CASPNR-SACRPN@tc.gc.ca
Pacific Region (British Columbia)
Transport Canada
820 – 800 Burrard Street
Vancouver, British Columbia
V6Z 2J8
Telephone: 1-800-305-2059
Fax: 1 855 618-6288
E-mail: tc.aviationservicesPAC-servicesaviationPAC.tc@tc.gc.ca
Transport Canada Drone Safety Website
http://www.tc.gc.ca/eng/civilaviation/drone-safety.html